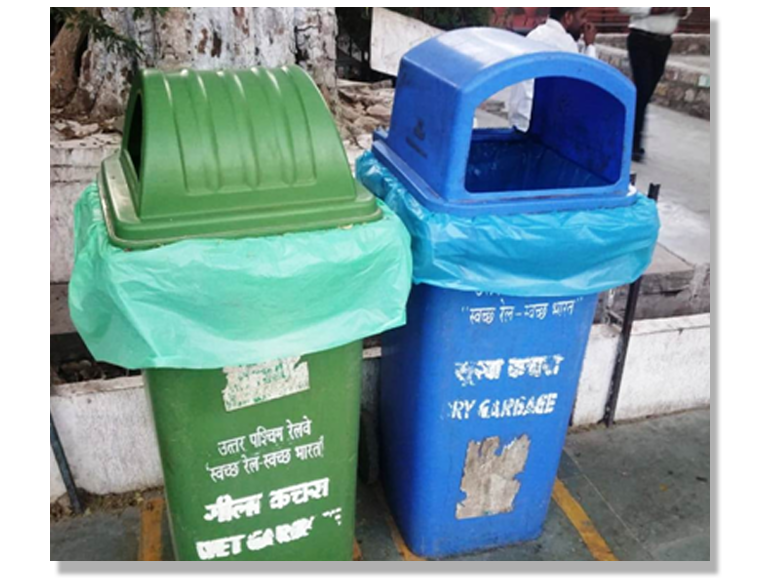 WASTE MANAGEMENT
Waste management is a part of the Jodhpur railway station for environment-friendly disposal of waste.
Separate dustbins i.e. green dustbin for collection of wet waste and blue dustbin for dry waste are already placed on the platforms and all passenger interface areas at Jodhpur railway station.
Two different colored polythene liner bags i.e. green for Wet and Blue for dry waste are also provided separately in all dustbins.
Collection of garbage from all the points in the segregated form i.e. Wet garbage by green trolleys and Dry garbage by blue trolleys.
Finally dispose off the garbage in relevant main dustbins provided outside the railway station (main dustbin depot – outside the parcel office), and from there it is transported to the municipal solid waste management plant which is allocated to the railway for final disposal.
MECHANISED CLEANING
13 different types of machines have been deployed at station for mechanized cleaning work. These include battery operated vacuum sweeping machines and replaced brooms in circulating areas and platforms.
Two ride-on & three walk-behind scrubbers are deployed for mechanized scrubbing, vacuum wet mopping and shining of all type of finished floor areas.
The station has also got two single disc scrubber machines for stain removal from all type of floor areas.
Other modernized equipment's are also provided including vacuum cleaners, back pack cleaners, mini scrubbers, litter pickers, drain cleaners, steam cleaners, escalators cleaners etc.
High pressure jet cleaning machines are provided for intensive washing through ultra high pressure jets.